Se você vai viajar para Maragogi ou São Miguel dos Milagras, confira nossas dicas! Versão completa em português aqui.
This is the second part of the article of our trip to Maceió. If you want to see the first part, click here.
Fifth day – going to São Miguel dos Milagres
On the way to Maragogi, we stopped by São Miguel dos Milagres. What a wonderful place! The paradise must be similar to this. The water is… well, I am not going to describe it using words, just take a look at the pictures below.
[metaslider id="185″]
Then, we went to the Peixe-Boi's tour. There is an association that takes care of manatees in vulnerable state. They take care and feed the animals, and if they are able to readapt to some required conditions, they get back to the nature. It is worth the visit to the place.
[metaslider id="218″]

A curiosity is that the TV program Caldeirão do Huck has improved their local, making it more famous. This TV show can be watched on the link below:
https://globoplay.globo.com/v/3691305/
The tour lasts for 1 or 2 hours. The boat has no engine, And two people keep on pushing the boat using a big piece of wood in the rear, touching the ground of the river and making it move, while a third person works as a touristic guide, explaining about the animals and the project.
Tour price: R$50,00
Observations: They allow just a few persons a day, willing not to stress the animals. So, you'd better call in advance to schedule the tour.
After this tour, we went to Maragogi, which is located 30 minutes from São Miguel.
At night, we decided to go to the first city in Pernambuco state, São José da Coroa Grande. Everything closes at 07 p.m. there, so if you decide to go there, don't wait too long! Right at the beginning of the city there is grocery store which they call a whosaler (atacadão). The price there is really good, despite is doesn't seem like a whosaler in São Paulo. A lot of things were cheaper than in São Paulo. The owner of the house we stayed suggested us to go there. He also said that some other grocery stores closer to us were used to charging high prices due to the high number of tourists. This "whosaler" is where local inhabitants were used to going.
Hint: seek to know where local inhabitants usually go. They don't want to pay the prices tourists are used to paying.
After 07 p.m., there is just a small area with another "feirinha" (a place with some small stores or people selling things) and some restaurants. Despite there were just a few people out on the streets, we felt safe and comfortable.
Sixth day – Maragogi
Jaque woke up earlier than us and provided us with these amazing pictures of the sunrise.
When everybody woke up, we decide to visit Peroba Beach, which was the beach closest to the house where we were (we don't recommend to rent a house in this area – the water in the neighborhood isn't well treated, search a little bit about the area where you intend to stay!).
Despite the water wasn't very well treated, Peroba Beach has a clean sea. Some beaches downtown in Maragogi have sewage disposal, so be aware.
We entered the sea and as the tide was very low, we walked until we got tired in the sea, and it was possible to touch the ground with our feet, in fact, the water barely reached the knee.
[metaslider id="227″]
There were some crowded areas, and some people were selling the tour to the natural pools for R$100,00 a person.
We ended up paying R$65,00 for person on the next day, by motorboat, directly with the Airbnb house's owner.
Seventh and last day – tour in Maragogi – Natural pools
This was the most expected day of our trip. Despite we had seen several pictures of the place in advance, it was difficult to believe in the existence of such place. The blue of the sea is incredible. It seems like you are looking through a Photoshop filter rs.
To witness this experience, it is necessary to be sunny. We noticed that when some clouds hid the sun, the color of the water was a regular blue.
When we got off the motorboat in the natural pools, we were invited to have some pictures with professional photographers who worked there. They take really cool pictures underwater.
There is also the possibility of scuba diving, but we decided not to do that because we would fly on the following day – people say it is not good to dive when you are about to fly, we do not know for sure, leave your opinion in the comments here!
After visiting the coral reef, the motorboat pilot stopped by an incredible sand bar. This sand stretches for miles in the sea. In these photos below, next to the place where we were, it is very shallow, you can see the sea floor, and the beach is actually very far from us.
[metaslider id="234″]
This tour got us our favorite photos. We enjoyed a lot.
Hint: Always be aware of the prices of things. When you like a tourist (as it is in my case, unfortunately – everyone tells me that kkk), some vendors or even restaurants may charge you a different price. Don't forget, we are in Brazil =/
At lunch we went downtown in Maragogi. There we had lunch at the self-service restaurant Casa do Turista – which we highly recommend. The place offers good and beautiful food at a super fair price, including there was a delicious bobó de camarão (a Brazilian food with shrimps) on that day. Besides offering a dessert that delighted us – green coconut ice cream with cocada (a Brazilian desert made of coconuts). We were also told that at night they have à la carte.
Hint: Try to keep a balanced diet during your vacation week so you don't feel uncomfortable. Having lunch in self-service restaurants is one of the ways that Jaque and I have adopted to achieve this. In some restaurants, sometimes you order a dish, and it comes with a lot of rice and beans. When you choose your food, you can put a lot of salad and more protein options. Then at night we usually eat whatever we want kkk.
Hint: After leaving the restaurant, we talked to people who were offering a more complete tour to the natural pools. And there they were legalized, within the rules. Before making a deal regarding tours, have a quick look or walk in the central area of Maragogi.
For our last night, we decided to stay by the beach near our house, Peroba beach. There we got some really cool pictures with the sunset.
[metaslider id="252″]
Despite being a paradise and very romantic, it is very worth traveling with another couple. They help you get the best photos so you can always remember the trip, and always have someone to stay at the table to take care of things while you can go to sea with your sweetheart.
At dinner time, we could not resist, we got back to Casa do Turista restaurant to taste the Shrimp Jangadeiro. No words, right?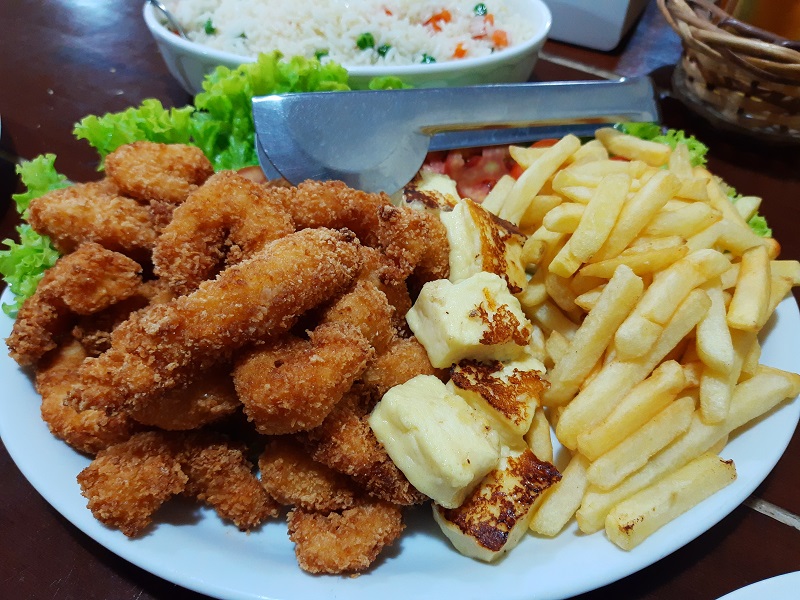 Comment below what other tours we should have done in São Miguel and Maragogi. What is the most beautiful beach there? What's the most delicious / exotic dish you've ever eaten in this region? We want to know your your opinion!